INKA SHAMANIC HEALING HOUSE
Healing Ceremonies with Ancient Medicinal Plants
Inka Mystic Massage in Cusco
Mystic Massage: We channel the cosmic energy of the universe, the earth and the Inca spirits, also with the help of the animals of power the condor, puma, llama, snake. The natural vibration of the energetic stones, with essences and ointments of organic plants, contributes to a deep healing, restoring the bodily, emotional, mental and spiritual balance, allows a complete relaxation. This massage open the chakras, act on the whole body and vital points that you need to improve. For this massage you need a radical change in your intention: working your mind, believing in the healing virtues of the energies and medicinal plants and enter with the heart opened. Allow your spirit to release the existing negative energies. The work is through the Shaman or healer that helps to improve your body, these are Shamanic techniques and secrets, the result is similar to the Shamanic massage, the difference is the shorter duration and the cleansing with palo santo is not used. You may want to add to this healing massage one of our sacred plant rituals: Ayahuasca in Cusco Peru.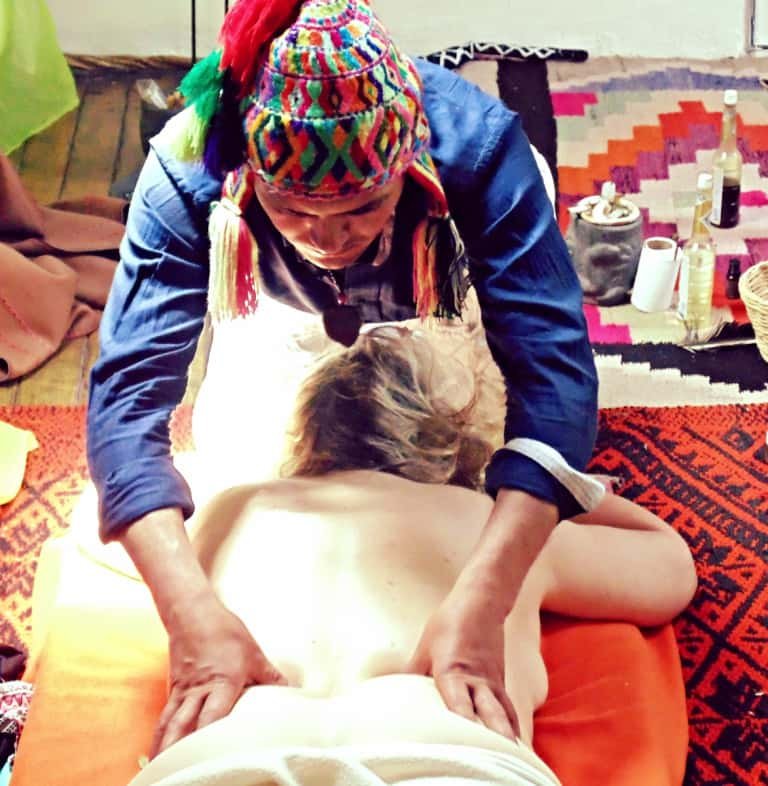 Inca Mystical Spiritual Massage
Mystical or holistic massage is a relaxing one where we work the whole body, the spirit, the mind and your different emotions. We use oils, essences and different Andean medicinal and aromatic plants whose scents will completely relax you and the energy will flow freely throughout your body. It helps to connect with nature and the universe, working on the material and the immaterial, covering the psychological and spiritual dimension. We make the body connect with everything around it, with the 4 forces of nature; your body awakens and experiences new mysterious sensations.
Inca Relaxing Massages: This relaxing massage will relieve muscle pain, stress, nervous tension and negative charges. We will massage all your body, with different secrets, using different organic essential oils and natural creams made of Andean medicinal plants (Marku, Coca, Chirichiry and other plants).
Connection via the Inca spirits and forces of heaven and earth.
We open and close the energy channels to align your chakras.
Roll out the nerves and muscles by relaxing your body through Shamanic massage.
We purify negative energies (with secret techniques of the Caisae center).Book also one of our Ayahuasca options for spiritual healing: Ayahuasca retreats, Ayahuasca Amazon, Ayahuasca in Cusco. Ayahuasca Peru.
Short massage 30 minutes.
Normal massage 60 minutes. service hotel service hotel USD. 110.00
Full massage 90 minutes. Service hotel USD. 130.00
Inka mystic massage, with shamanic energy, contributes to deep healing and restoring of the bodily, emotional, spiritual balance, get complete relaxation. Andean massage Cusco.
Ayahuasca Retreat Machu Picchu, 15 Days (6 Ayahuascas, 4 San Pedros + 5 ancient ceremonies)
Pachamama and 5 Ancestral Techniques
Inca Marriage + Machupicchu 9 days